Horticultural Packaging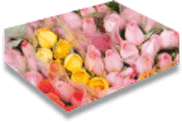 Horticultural packaging must be strong and durable, as the goods are packed in conditions of high moisture and low temperatures. This enables you to package and deliver your goods in a safe, contamination free delivery to your customer.
User-friendly Transport Packaging
The glued boxes are easy to use due to its 4 point glued construction. The box can be opened manually and is then ready to be filled, either by hand or in an automatic filling line. The boxes offer the best protection for your products during transport, whilst the high-quality print provides a striking presentation. The boxes are very cost-efficient within the entire logistics chain.
We can supply poly-lined boxes and non-poly lined boxes. Our Poly lined boxes are treated so that you can pack the product directly in the box without the need for polythene liners, saving you time and money.
The packs can be a base and lid or a one-piece pack. These can be supplied hand erect, pre-glued or machine erect, whichever is the most suitable for your product.
Optimum Moisture Control
The glued boxes are closed by a lid, and in combination with the unique pattern of holes, optimum moisture control is achieved in the box. This way, your products arrive at their destination in perfect condition.
Please call Damian Smithson or Paul Curran for any further information on our products. If you wish to discuss your company requirements or would like any samples please just call, nothing is too small.

FREE PHONE 0800 7834 563

Tel: 01756 799411 or paulcurran@npbltd.co.uk