CORRUGATED OCTABINS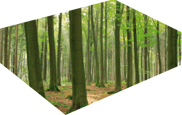 Corrugated Octabin box pallets, also known as Meatainers, are used in all kinds of light and heavy-duty industries. The corrugated cases (Octabin box) were developed in association with WRAP (Waste and Resources Action Programme) in an effort to reduce the amount of packaging ending up in landfill.
Corrugated pallet containers offer superior performance where water, moisture or condensation is a major element for shipping your products / produce. The Corrugated cardboard boxes have a number of unique properties making it the perfect base for high-quality packaging.
Cost affective compared to alternative transport packaging products.
Corrugated is a strong, versatile packaging material that is universally accepted for recovery and recycling, while being "environmentally friendly."
Corrugated packaging is a recognised as a hygienic solution for transporting your products.
Reduces storage space, material costs and ensures simpler recycling and disposal.
Currently we hold the following Corrugated Octabins in stock, which could be despatched for next day delivery. Should you require a different size, please do not hesitate to contact us.
1181 X 853 X 762mm Double Wall 300 Kraft /300 Test - 100 per pallet
1181 X 981 X 762mm Double Wall 300 Kraft /300 Test - 100 per pallet
We can also supply you with Corrugated Octabin blue tint liners for your pallet boxes. Please give us a call for your quote and see what we can save you.
Our competitive prices will save you ££££'s.
Please contact Damian Smithson or Paul Curran or call us on 0800 7834 563 or 01756 799411 for all your box enquiries whether they be plain or printed, small or large, we're here to help and give a first class service.